2016 Volkswagen Passat Summary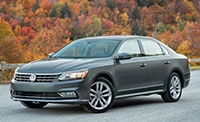 In terms of style, quality, comfort, dynamics, and value, the 2016 Passat stacks up with the best in a class that's loaded with very good cars. It's a pleasure to drive, it's exceptionally roomy, it has top safety ratings, and there's that hint of Teutonic genetics in its sinews. Think of it as the automotive equivalent of a terrific German recipe, baked in an American kitchen.
With driving impressions by The Car Connection.