2016 Volkswagen e-Golf Driving Impressions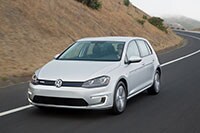 With its electric power and shiftless transmission, the e-Golf is remarkably smooth and quiet on the road. The motor is tuned to deliver maximum torque at takeoff, so the e-Golf feels surprisingly peppy in city driving. Acceleration ebbs as you reach cruising speeds, but not to the point where you feel deprived of power. Getting up to 60 mph from a standstill takes about 9.1 seconds, which is slightly above average for an EV in this price class.
The e-Golf features Eco and Eco+ driving modes that reduce horsepower from 115 to 94 and 74, respectively. These settings are designed to extend your driving range, although performance drops off considerably. They are best used when you're already cruising at a comfortable speed.
You can also extend your range by selecting how much braking energy is used to charge the battery pack. There are three regenerative braking modes that control how fast the car slows down on its own using a grabbing action applied by the motor. The faster the car slows by itself, the more braking energy is routed to the battery. In maximum regeneration mode, you seldom need to hit the brake pedal to slow down. It can take some type to get used to this driving style, which is probably why VW offers three modes progressive modes (you can also turn off regeneration completely). A driving range of 100 miles or more is possible once you get the hang of the available driving and braking modes.
Although the battery pack adds weight, it's positioned at the lowest point on the body and the suspension is specially tuned to compensate for it. As a result, the e-Golf handles with the same precision and athleticism as the regular Golf. Ride quality is actually better, and there's an overall sense of stability that you usually don't find in cars this size. The hushed operation only enhances this feeling. The only thing you might hear is the gentle siren that sounds at low speeds to alert pedestrians that the e-Golf is approaching.