2016 Volkswagen e-Golf Introduction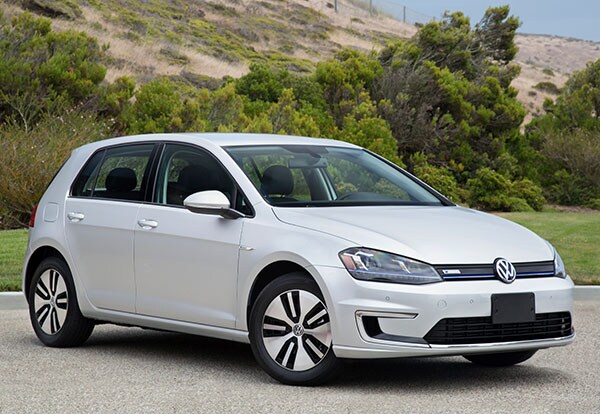 The 2016 Volkswagen e-Golf, the all-electric version of the long-running Golf hatchback, serves up a taste of German engineering without burning a drop of fossil fuel. The current Golf was designed from the start to accommodate electric power, so it comes as no surprise that the e-Golf looks and feels nearly identical to the rest of the line. You get the same packaging, versatility, and driving dynamics that give the other versions their appeal.
Under the hood is a 115-horsepower electric motor that delivers 83 miles of range and 126/105 MPGe City/Highway. (MPGe is the EPA's measurement of how far an EV can travel on the amount of energy in a gallon of gas.) A single-speed automatic transmission delivers power to the front wheels, and a lithium-ion battery pack is mounted under the passenger floor. The e-Golf offers quick-charge technology that can restore a depleted battery to 80 percent capacity in just 30 minutes.
The e-Golf debuted last year as part of the latest generation of Golf models. For 2016, e-Golf gets a revised infotainment system with Apple Car Play and Android Auto capability. The newly available Driver Assistance package features a front collision mitigation system. For now, the e-Golf is sold in 10 states covering the Northeast and West Coast, which is actually decent availability for an EV. VW has stated it plans to expand into other markets in the near future.
The e-Golf competes with mainstream electric hatchbacks such as the Nissan Leaf, Ford Focus Electric, and Kia Soul EV. When fully equipped, it's also a cost-conscious alternative to the upscale BMWi3 and Mercedes-Benz B-Class Electric Drive.