2016 Volvo S60 Driving Impressions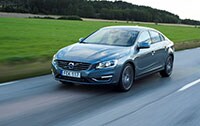 All models steer and handle well, with three selectable suspension-tuning options. Plus, Drive-E engines offer three modes: Drive, Sport, and Eco+.
Two variants of the direct-injected Drive-E 2.0-liter four-cylinder engine are available: base turbo T5, and turbo/supercharged T6 for improved low-end response. Volvo claims 0-60 mph acceleration in 5.6 seconds for the T6, and 6 seconds for T5.
Stop-Start operation is standard on both; it's easy to get used to in traffic and is quick on restart. Front-drive models promise relaxed cruising at highway speeds, helped by the wide gear-ratio spread of the 8-speed automatic.
All-wheel drive models, with their older engines, are heavier than they may appear. On the other hand, you get an easy driving experience, swift acceleration, confident traction, and excellent all-weather capability.
Lighter weight of the newer Drive-E engines makes front-drive models nimble and responsive. With any powertrain, an S60 is agile enough to handle hairpin mountain curves, and maneuverable enough for tight city streets. The turning circle is tighter than expected.
Despite its higher standard, body lean in the Cross Country isn't excessive, and it handles much like the others. Handling is crisper in the R-Design, which gets bigger front brakes, but noise and harshness impair the pleasure.
Suspension firmness can be set to Touring or Dynamic, while driver control offers Comfort, Sport, and Advanced modes.