2016 Volvo S60 Introduction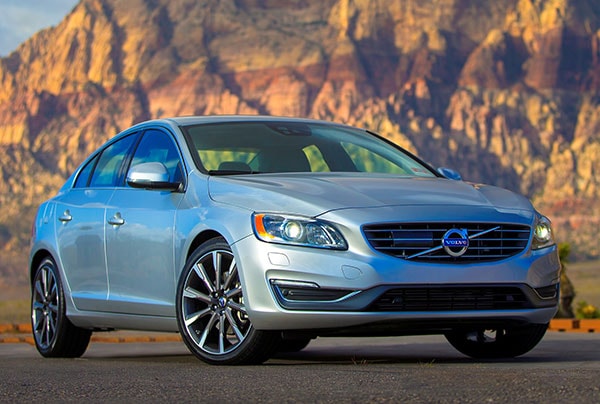 The Volvo S60 is appealing for its striking good looks and first-rate safety scores, and it backs that up with sharp handling and premium trim and engineering.
This second-generation S60 was introduced as a 2011 model then updated for 2014 and 2015.5, most recently with a new grille, bumper, and hood, new LED running lights and headlights. For model year 2016, Volvo S60 carries over with only minor changes beyond those.
All-wheel drive is an option, front-wheel drive is standard, and a dizzying variety of powertrains is available. Standard is a recently introduced 2.0-liter turbocharged four-cylinder engine that makes 240 horsepower on Regular gasoline and gets an EPA rating of 25/37 mpg City/Highway, 29 mpg Combined. With it, Volvo says the S60 T5 Drive-E can accelerate from 0-60 mph in 6.0 seconds, a very brisk performance. It comes with an 8-speed automatic with Sport mode and front-wheel drive.
The all-wheel-drive S60 T5 AWD comes with a 2.5-liter five-cylinder rated at 250 horsepower and lower EPA figures: 20/29 mpg City/Highway, or 23 mpg Combined, also on less-expensive Regular gas. It comes paired with a 6-speed automatic and 0-60 capability of 6.6 seconds, still quick by anyone's stopwatch.
The S60 T6 Drive-E comes with a more powerful turbocharged 2.0-liter rated at 302 hp, 24/35/28 mpg, and a very quick 0-60 performance time of 5.6 seconds, with the 8-speed automatic.
The performance-oriented S60 R-Design holds a turbocharged 3.0-liter six-cylinder that produces 325 hp propelling it to 60 mph from a standstill in just 5.4 seconds. It comes with the 6-speed automatic and EPA rating of 18/26/21 mpg.
If not luxurious, Volvo S60 models feel like premium vehicles, in terms of trim, ride quality and quiet operation. Due to its lower stance and stiffer sports suspension, the S60 R-Design transmits more noise and road harshness.
With its sharp handling, the S60 competes at the sportier end of the premium and luxury spectrum, though it's more quietly competent than all-out luxurious. In that respect, the S60 comes closer to an Acura or Infiniti than to anything from BMW or Mercedes-Benz. A little larger than a compact BMW 3 Series or Acura TLX, the S60 is smaller inside than a midsize Audi A6. Performance falls closer to a Buick Regal GS or BMW 3 Series.
Assembled in China, the S60 Inscription model features an extended-length body. Fit and finish on the Inscription we tested appeared identical to S60s built in Europe.
Maintaining its reputation for safety, Volvo's S60 got a five-star rating in every category from the National Highway Traffic Safety Administration. By the numbers, at least, it's one of the safest cars you can buy. An extensive selection of electronic safety systems is available, though many are optional.