2016 Volvo V60 Introduction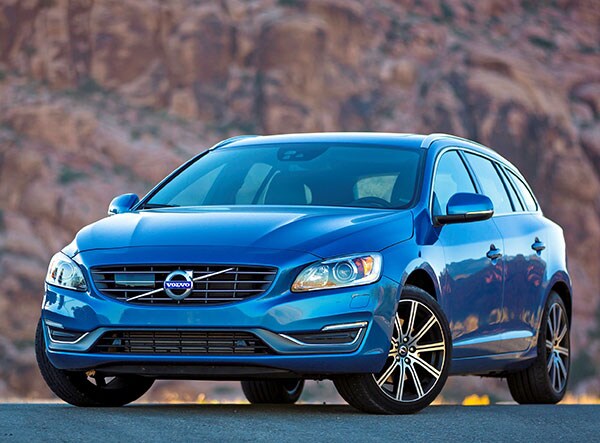 The Volvo V60 wagon is designed for drivers who crave a sports sedan but appreciate practical virtues. Or maybe it's for those who need a crossover SUV for its hauling ability but welcome nimble handling. From either direction, the V60 fulfills those needs. It is sleek and stylish and grips the road like a sports sedan.
The V60 was introduced as a 2015 model, but it's based on the second-generation S60 sedan, which was introduced as a 2011 model then received a major update for 2014. Changes for the 2016 model year are minor.
The V60 comes in two major forms: the front-wheel-drive T5 Drive-E and the all-wheel-drive T6.
The V60 T5 Drive-E comes with a turbocharged 2.0-liter four-cylinder engine powers the front wheels. The four-cylinder makes 240 horsepower and 258 pound-feet of torque, mating with an 8-speed automatic transmission. Volvo says an overboost mode can boost torque output to 285 pound-feet for up to 10 seconds, at full throttle. Fuel-efficiency is at its best with the T5 Drive-E engine and front-wheel drive, EPA-rated at 25/37 mpg City/Highway, or 29 mpg Combined.
The V60 T6 R-Design uses a 325-horsepower turbocharged 3.0-liter inline-6 to power all four wheels through a 6-speed automatic transmission. The T6 R-Design is EPA-estimated at just 18/27 mpg, 21 mpg Combined.
Volvo also offers a V60 Cross Country model with a 250-horsepower engine and greater (7.9-inch) ground clearance, in base and Platinum trim levels.
All models offer three drive modes: Normal, Sport, and Eco+, which can cut off air conditioning and remap the throttle and transmission.
The V60 has a small but comfortable cabin. The front seats are excellent. The rear seats are comfortable and supportive but legroom is tight.
Cargo space is not in abundance, either. Folding the rear seat yields only 43 cubic feet of cargo room, which is less than half the volume available in the XC60 crossover.
The Insurance Institute for Highway Safety (IIHS) rated the 2015 Volvo V60 a Top Safety Pick+, granting a Superior rating for crash prevention with optional safety systems.