2016 Volvo V60 Summary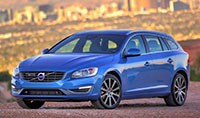 The Volvo V60 fills the bill for a sports sedan with some versatility behind the back seats. The V60 T5 Drive-E has a lot to offer. If you need all-wheel drive, the V60 T6 is the only choice, but it does not offer the fuel economy of the T5.
Driving impressions by Christian Gulliksen, The Car Connection. James M. Flammang contributed to this report.