2016 Volvo XC60 Driving Impressions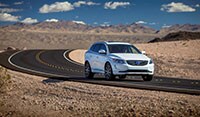 The XC60 handles a lot like the S60 sedan, which is to say secure. However there is a big difference in handling between the front-wheel-drive models with the lighter Drive-E engines and the all-wheel-drive versions with the inline five and sixes. Actually, each of the five powertrains has different handling.
The Drive-E T5 has almost no torque steer, while the Drive-E T6 has enough that you can feel the stability control system in a tug of war with it. (Torque steer, common on front-wheel-drive cars, is traditionally felt as a tug on the steering wheel when accelerating.) Both the T5 and T6 Drive-E models are better balanced than the all-wheel-drive cars with their heavier engines, which translates to heavier and slower steering.
But with the rugged Haldex all-wheel drive you also get nine inches of ground clearance, and passage through deep snow and mud. The T5 all-wheel-drive with the 2.5-liter five-cylinder engine is not as quick as models with the six-cylinder engines. And with the turbo 3.0-liter, the R-Design is a bonafide sports sedan.
The Drive-E engines with 8-speed automatics are designed for great fuel mileage while delivering good performance. The transmission shifts a lot in order to keep the engine at peak efficiency around 1500 rpm, but the shifts are smooth as silk. When we floored it, the transmission leaped down an amazing four gears to drive the engine toward 5000 rpm, but that's what it was designed to do. In the T6 Drive-E, you can feel the muscle in the front wheels, but the yank of torque steer is mostly controlled by the electronics.
The Drive-E models have Sport and Eco+ modes to adjust the throttle for power or economy. There is also a start-stop system that's fast and unobtrusive, almost as good as Mercedes and better than BMW.
The XC60 stays planted in fast corners and doesn't feel like a tall vehicle in tight ones. Excluding the R-Design, you can't quite call it sporty, but it is responsive. The ride is firm, maybe not as smooth as many other crossovers, but still forgiving on rough roads and better prepared for driving fun or challenges. However the ride is pretty rough with the optional 20-inch alloy wheels and low-profile tires, and can wear on you.