2016 Volvo XC60 Summary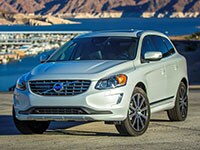 It's hard to go wrong with the Volvo XC60, as long as you choose the right model for your needs. T5 or T6, front-wheel drive or all-wheel drive, power or economy, it's all there in the powertrains. Responsive handling, smooth transmission, stylish exterior, beautiful cabin with superb front seats, functional easy instrumentation, and good cargo space. And of course the safety.
Driving impressions by John Voelcker, The Car Connection. Sam Moses contributed to this report.