2016 Volvo XC70 Introduction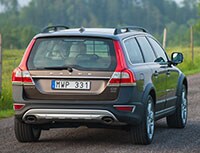 The Volvo XC70 Cross Country has the most traditional design among a thoroughly updated Volvo lineup. The XC70 is a boxy wagon built on the full-size S80 sedan platform. The XC70 is bigger than the sleek XC60 but smaller than the all-new three-row XC90. It boasts all that Volvo wagons have been loved for: It's solid, safe, comfortable, practical, and user friendly.
This third-generation XC70 was introduced as a 2008 model and updated for 2015. For 2016, XC70 comes standard with heated front seats.
The engine in the front-wheel-drive XC70 was new for 2015, a turbocharged 2.0-liter from Volvo's new Drive-E family, making 240 horsepower and 258 pound-feet of torque, through a new 8-speed automatic transmission. The powertrain is way more efficient than the one it replaced, a 3.2-liter six-cylinder with 6-speed automatic. The new powertrain is also used in the mid-size S60 sedan, V60 wagon, and XC60 crossover.
With front-wheel drive, the XC70 gets an EPA-rated 26 miles per gallon Combined, a good number considering its size and weight. The fuel economy rating is slightly boosted by a stop-start system that shuts the engine off when the car stops. The Volvo system is a good one, as the engine restarts almost instantly, as soon as the driver takes pressure off the brake pedal.
The all-wheel-drive XC70 uses the familiar T5 engine, a turbocharged 2.5-liter five-cylinder making 250 horsepower, with a 6-speed automatic. It only gets an EPA-rated 22 mpg Combined.
The sophisticated Haldex differential is front-wheel-drive oriented, with 95 percent of the power going to the front wheels on dry pavement. But when traction needs change, it can cut that to 35 percent, with 65 percent at the rear. Great for snowy driveways.
Volvo is known for safety, but the XC70 has never been crash-tested by National Highway Traffic Safety Administration (NHTSA) or the Insurance Institute for Highway Safety (IIHS). With Volvo's record for safety, we're not worried about the XC70.