2016 Volvo XC90 Introduction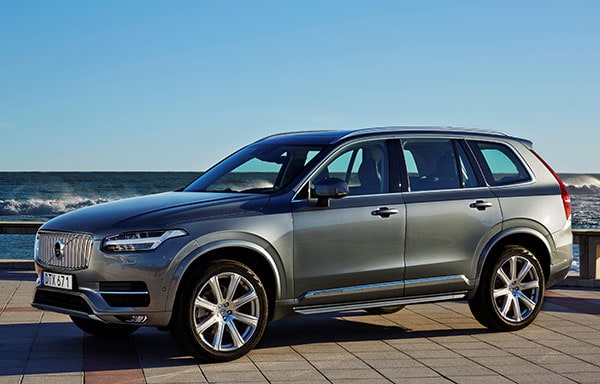 The 2016 Volvo XC90 is all new, its first redesign since the previous version was launched for the 2003 model year, and the transformation is dramatic.
The 2016 XC90 carries seven passengers and has more cargo space than ever. Yet it trades the minivan look of the former iteration for that of a sleek, expensive-looking wagon with a long hood, bold grille and striking LED headlamps. The new XC90 is a refreshing alternative to the macho look of some other crossovers and SUVs.
Likewise, the interior is a breath of fresh air with generous amounts of leather, aluminum and wood trim punctuated with high-tech digital instrumentation and a large tablet-like infotainment touchscreen in the center stack. Contour seats inspired by Wegner lounge chairs and an Orrefors-like crystal shifter celebrate Swedish design.
All-wheel drive is standard.
Volvo XC90 T6 uses a 2.0-liter four-cylinder supercharged and turbocharged to elevate power to that of a V6. The resulting 316 horsepower and 295 pound-feet of torque, working through a well-mannered eight-speed automatic transmission and all-wheel drive, moves the 4627-pound SUV smartly and with no fuss. Fuel economy is an EPA-estimated 20/25 mpg City/Highway.
Volvo XC90 T8 plug-in hybrid can travel 24 miles on electric power alone. Two electric motors are added to the T6 engine to deliver 400 horsepower and 472 pound-feet of torque. The T8 accelerates more briskly and more smoothly than the T6.
Volvo is targeting an EPA rating of 59 MPGe for the XC90 T8 plug-in hybrid, a figure that takes into account the first 24 miles of fossil-free driving. (Official EPA data were not available when this was published.)
The chassis is all-new, with double-wishbone front and integral-link rear suspensions. Optional is an electronically controlled air suspension.